These days we are celebrating the 29th anniversary of Ukraine's independence. There will be plenty of holiday greetings and loud speeches on Monday. But I would like to talk about something less pleasant - about the problems that will remain with us after the holiday.
They question how we will celebrate the next Independence Day. But will we at all.
Take a look around, just the latest developments.
War, floods and fires, attempts to clear our brains, the economic crisis, cyberattacks, the coronavirus pandemic. Areas of influence of major political players are changing dynamically. Competition between states is growing. The post-Soviet space is finally being transformed - we see this through the events in Belarus and the poisoning of Oleksiy Navalny. This is one of the lessons of these events.
There are more and more threats. In addition, they are complex. And they, like waves, amplify each other's influence. Under such conditions, the continued sustainable existence of Ukraine and Ukrainians is not guaranteed.
These threats require the state to take immediate action. But we do not see them!
There are no new ideas and solutions in the field of national security. On the contrary, their quality is falling dramatically. There is no comprehensive view of problems and challenges. Populism reigns. There is no leadership and no clear plan of action.
To some extent, the current lack of action is a derivative of another, the main problem.
Ukraine still does not have an approved national security strategy.
There are "projects", bureaucratic red tape continues. But so far, countries in central Europe that are at war with Russia, countries whose future is uncertain, do not have a common vision of what threatens it and what should be done.
However, do not panic. You just need to change the angle.
National security is not just a matter of the state, officials and people in government. Not only will they suffer when threats turn into real disasters.
National security consists of a set of factors. It really depends on state institutions - from the armed forces to the secret services. But at the heart of security is our shared resilience. And it already depends on us.
Today, all of us - citizens, business, public associations, including - are players in the field of security. Everyone is in their place - where they work, where they live, where they rest. Sustainability is when all participants in the process understand their role and actively interact.
So where to start?
Get a holistic view of the problem.
We need to be clear about where the threats are coming from and how they are related. Even in seemingly remote sectors: culture, education, economics, energy, civil society, business.
Understand and share responsibilities.
We need to understand what roles we have with you - who is responsible for what in the new reality. What contribution to security can a teacher, businessman, doctor, programmer, military or official make? Preparing for threats - strengthening our resilience.
Develop a real national security strategy.
I will return to what has already been said: we lack a comprehensive document written in plain language that will be accessible to everyone. Which can be taken and applied locally. He must clearly, honestly and unambiguously describe the steps that will enhance our security.
If we do nothing, we will be helpless to respond to new crises. They will impose their vision on us and put it on our heads, using all possible levers: from military and economic to cultural and informational.
Is it worth accepting? I think not. I'm sure you are too.
Today, the security of the country is the business of every citizen. Our common goal is to make Ukraine and each of us stable and able to act. When needed - together.
In the end, it depends on whether Ukraine celebrates its next Independence Day.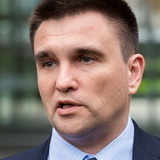 PAVLO KLIMKIN
Minister of Foreign Affairs of Ukraine in 2014-2019
Head of the European, Regional and Russian Studies Program of the Ukrainian Institute of the Future
© 2014 - 2020, Європейська правда, eurointegration.com.ua